---
Good news, everyone! We've finally got a way for you to support the comic. If you enjoy Greasy Space Monkeys, please consider heading over to Patreon and becoming a donor so we can keep our favourite grease monkeys in terrible jobs for the forseeable future. If you don't know what Patreon is, there's a short explanation in our description.
The first subscriber feature is a background featuring our robot/kitty buddies, here's a thumbnail-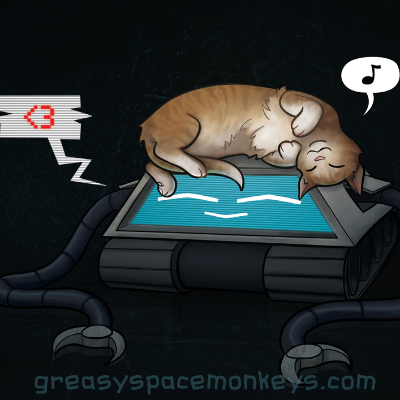 Why should you support us? If you enjoy the comic, and want to see more, Patreon is the best way to do it. I've absolutely loved creating the comic and sharing it with you guys. Your support means we can continue to release Greasy Space Monkeys well into the future. With enough support we'll even have enough time to release two strips a week!
We understand that sometimes financial support is just not possible, and that's okay! If you still want to show your support- share us with your friends, on social media, or, y'know, if you really dig it, you could print it out, paste it to your face and walk around as a living billboard. Just saying. If you do that, please send us a picture.
---
---