Hiatus
Posted 2nd of September by Reine
Hi everyone,
GSM is stopping permanently.
Just kidding! But we will be going on a short hiatus. As you might know, I make my living through freelance work- mostly design, often illustration work as well. In my spare time while not working on a job, I draw and write GSM and Stillwater. Between freelance work and drawing the comics every week for the last three years, it's taken a toll. To make matters worse, I've been ill a few times this year which has caused a couple of intense catch-up sessions.
Anyway, the long and short of it is that I've stressed out my wrist and drawing arm to the point where it really needs a break. I'd rather not do permanent damage, so I've turned down most of my freelance for the month and I'm taking a short break from GSM. I don't love having to do it, making GSM is one of the highlights of every week, but coming back rested will mean an improvement in quality (not to mention the comic continuing to exist!).
In an ideal world, I'd only make comics. I like sharing them for free and see no reason to ever change that… problem is, free doesn't pay the bills :P If you enjoy GSM or Stillwater Springs, please considering contributing to our Patreon! If you pledge during the next month I'm going to put up some sneaky sketchy super secret comics (alliteration!) that won't be up for long.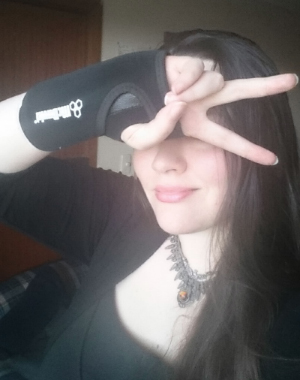 It'll be tricky, mostly not drawing for the month. At least I have this fashionable wrist brace to help me out. Anime pose!
I don't think I'm doing it right.
By the way, a big thank you to the Patreon supporters so far! You truly are scholars and gentlemen/ladies/aliens. During this break I'll get to finish some Patreon extras I've been planning for a while, so look out for those too.
Don't forget to subscribe to my twitter @ReineBrand if you'd like to keep up with what I'm up to, also Mark will do his best to entertain you over the hiatus if you follow him at @writebotmk, otherwise we'll be back on October the 7th :)
See you in a month!
<3 Reine
---